General Information
Gameforge takes the security of your game accounts very seriously. For this, we have gather some important tips together to inform and help you guard against the possibility of you becoming a victim of account theft or other fraud methods. Should this happen, you can also read what you can do about it here.
Account sharing
Account sharing means that you allow others to play on your account, or that you play on the accounts of others. Even if you trust the person, you are taking a risk by passing your account details on. You can only be certain of full security if you completely avoid account sharing in any form.

You should also be aware that players that share their accounts are breaking our terms and conditions for use. A player, whose account is used by more than one person, will receive a caution and will no longer receive any support services. In the event of lost game items and characters this means that account sharers have no entitlement to reimbursement.
Fraud sites and phishing mails
Many internet sites or emails advertise free Dragon Coins, fast levelling, free items, GM rights, hacks etc.

Only enter your Metin2 account data on the official website: https://en.metin2.gameforge.com:443/

All other sites may take your password and use it to steal your account.

Here is an example of a fraudulent site: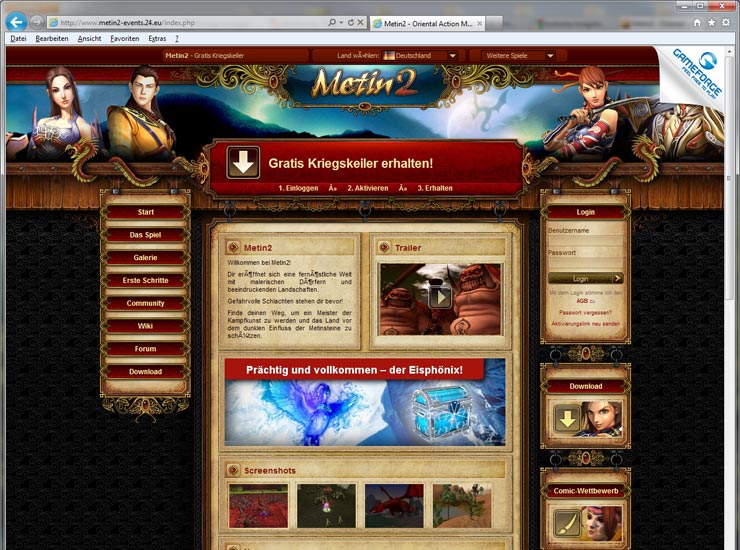 Malicious software (Malware/Keyloggers)
Do not download any programmes and do not surf on any suspicious sites which offer you advantages in game.

Often, these programmes contain keyloggers, which note and forward everything that you type – including your account details.
Make use of current anti-virus software and keep your system updated. You can find more information on this here: PC Security
False Game Master
Some players pretend to be GMs, technicians etc. and try to tell you that there is an error with your account. Or they may promise you various things, so that you tell them your account details.

No Metin2 team member will ever ask you for your password – whether GM, technician, developer or otherwise from the Gameforge company.

Should anyone ask for such details, please report it as soon as possible and do not pass on the requested data to this person, even if they threaten that your account will be banned if you do not do it. Such threats are always a bluff.
Email password/messenger
Please do not pass on your email or messenger account details either. If someone has your email password, it can be quite easy for them to take over your account.

We would urgently recommend that you use a unique password for Metin2, which you do not use anywhere else.